a mom and housewife with a great passion: kitchen! Some years ago I left my desk job and I started to follow my dreams, looking for each time to transmit my passion to other people: to cook is something that relaxes me, enjoyes me and it gives me happiness. I spend my time to think up new recipes capable to remember the vegetable garden with flavours and perfumes, the job into the fields and the long walking in the middle of nature.
I'm lucky to live in Tuscany, land where culinary tradition is a fundamental part of culture and history and to be grown in a family of peasant origin, where first my grandma and after my mom handed down me the secrets to be a good cook! Secrets... may be that's not the right word because it's just passion, curiosity and research of fresh products, healthy and genuine!
For these reasons all of my cooking lessons will start from my vegetable garden, from the woods and from the fields, continue to my friends breeders or butchers who controls personally the quality of meats, at Tuscan wineries that makes wine ables to recount ancient traditions like grape harvest.
Each cooking class is "private" and therefore planned around you: you should feel like in your home but at the same time part of the family; so you can satisfy also the littlest curiosity regarding products and Tuscan kitchen. Just so you will feel authentic emotions and uniques that just Tuscany and its traditions can give you.

Looking forward to welcome you soon to cook together.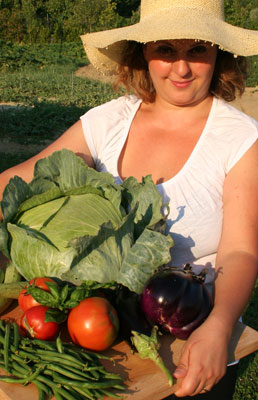 Letizia Cucchiara - Cooking in Tuscany